Organization Profile
The Nagasaki Islands School of Natural and Intercultural Studies (Nagasaki Islands School) is a social enterprise founded in 2004 with the aim of developing the next generation of international leaders. We specialize in interactive travel programs targeted towards students and adults from all over the world, and offer various international, cultural, and environmental activities. Our programs are executed with close support from the local rural communities, whose cultural assets have often been forgotten by the modern world.
We have enjoyed working for People to People and JTB-Global Marketing and Travel each summer since 2007. We are proud to announce that our homestay programs have twice been rated No.1 among all 48 programs offered worldwide by People to People Student Ambassador Programs. The programs and staff of Nagasaki Islands School have been featured on several major media outlets, including National Geographic website and NHK, Japan's National Broadcasting Company.
Our programs are run by a team of young, internationally educated staff with diverse backgrounds. For more information, please visit our website: www.nagasaki-islands.org
International Staff Profiles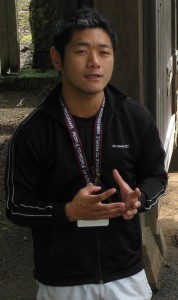 Satoshi Oseki
The founder of the Nagasaki Islands School, Satoshi Oseki, is a native of Hirado Castle Town coming from a unique background which encapsulates the history of the region; his father's ancestors were so called "Hidden Christians", and his mother's side of the family were Samurai warriors who served for the local lord of Matsura since 1640s.
Although Satoshi was born and raised in Hirado Island, he left his hometown at the age of 16 when he was awarded a scholarship by the Japanese Economic Federation, to represent his country at an international school called "United World College of the Atlantic" in the UK. United World Colleges are a group of 14 international schools, where students selected from over 80 different countries live together and receive two years of international education to grow into leaders of the new generation. Upon returning to Japan, Satoshi attended Kyoto University, the second oldest university in Japan located in the ancient capital of Japan with 1,200 years history. There, Satoshi worked for Mr. Alex Kerr, a noted author and Japanese cultural expert, to administer international and cultural programs. After graduation, Satoshi traveled in the wilderness for a year and received environmental education training in Vancouver Island, Canada.
Satoshi's passion for this region and his strong network of international experts enabled him to create the Nagasaki Islands School, providing a way to revitalize the islands as well as share his love for the region with the rest of the world. In his free time, he loves to spearfish, do housework, cook and spend time with friends and family in his favorite place in the world, the islands of Nagasaki.
Joshua Beatty
As the Director of International Operations, Joshua provides leadership on the Nagasaki Islands School's externally-focused programs and also specializes in historical and cultural programming.
A native of rural upstate New York, Joshua first came to Japan at age 16 as a Tokyo Metropolitan Cultural Foundation-sponsored high school exchange student. Since that time, Joshua has continued to develop his interest and expertise in Japanese culture and language; including one year as a Japanese Ministry of Education Scholar, two years working for the Japanese government as a Coordinator for International Relations, as well as seven years as the Logistics Director for the Washington DC Cherry Blossom Festival.
Prior to joining the Nagasaki Islands School, Joshua was a Director at the Institute of International Education in Washington, DC. He oversaw international professional development programs in Japan, Costa Rica, Saudi Arabia, and the Galapagos. Joshua has an MBA with a concentration in non-profit management from Willamette University, and a BA in Asian Studies from St. Lawrence University.

Kohei Noda
As a Team Leader for Student Programs, Kohei focuses on providing in-depth programing for our student programs, with a focus on environmental education and cultural adaptation.
Kohei has lived in Singapore, Australia, Canada and the United States. He is a graduate of the United World College of the Pacific located in British Columbia, a sister school of of the Atlantic College which Satoshi attended. Kohei is currently enrolled in Princeton University, majoring in Ecology and Evolutionary Biology. Kohei is a certified scuba instructor and an accomplished spear fisherman.

Rei Watanabe
Rei first joined the Nagasaki Islands School as an intern in 2007.

Since that time she has developed expertise in all areas of the School's operations and currently works as a Team Leader for Summer Programs.
Rei was born and raised in Tokyo until age 16 when she attended the United World College of the Pacific. Rei is seeking a degree in Social Anthropology from the London School of Economics. In her spare time, Rei enjoys singing and playing the piano.

Nahoko Hoshino
Nahoko joined the Nagasaki Islands School this year as a temporary Summer Program Leader. Prior to this she was an Analyst at Goldman Sachs in Tokyo. She is a graduate of the London School of Economics and the United World College in New Mexico. Nahoko will begin her MBA studies at the University of Pennsylvania's Wharton School of Business in August.

Sho Sugihara
As a Summer Program Asisstant, Sho provides support on all aspects of program operations and logisitics. Prior to joining the Nagasaki Islands School, he spent eight months as an international development volunteer in San Paulo, Brazil. He is currently enrolled at Cambridge University in the United Kingdom.
Sho is a native speaker of English and Japanese, and is also fluent in Portugese.


Chihiro Yoshida
As a Summer Program Asisstant, she facilitates student programs in several towns on Hirado Island. Chihiro lived and traveled extensively in India while attending the United World College of India. A native of Tokyo, she also lived in the US for several years. She intends to enroll in the University of Chicago in August.
Mika Tei
As a Summer Program Assistant, Mika assists in office operations and local programming. She is a native of China, and grew up just east of Nagasaki in Saga Prefecture. Mika is fluent in Chinese, Japanese, and English and currently attends the United World College of the United States in New Mexico.
Kenta Mori
Born and raised in Nagasaki and Fukuoka, Kenta joined the Nagasaki Islands School this summer as an Intern. He is the youngest member of the team at age 16 and will attend United World College of the Pacific this Fall. Kenta loves to cook and takes every chance he can to jump in the ocean!
Christine Panganiban
A native of California and a former People to People Student Ambassador, Christine has returned to the islands this summer as an intern. She will begin studying at Cal-State, Long Beach in August and intends to major in Interior Design. Her hobbies include photography and badminton.
Local Operations Staff Profiles
Yuko Matsuguchi
As the Director of Local Operations and Office Manager for the Nagasaki Islands School, Yuko provides leadership and support to all programs based in the region. She joined the Nagasaki Islands School as its first employee, and has had a strong hand in the development of its operations and systems. She is primarily in charge of coordinating with local groups to arrange programming and home stays. She also oversees the finances of the Nagasaki Islands School. Yuko was born and raised in Hirado, and has traveled to Australia. Yuko is an expert at fishing for squid, and loves chocolate.

Naomi Hario
Naomi serves as the Local Operations Manager, and acts as a liaison between the local government and the Nagasaki Islands School. She is a graduate of Osaka University of Foreign Studies and is fluent in Chinese. Prior to joining the Nagasaki Islands School, Naomi worked for the Hirado City Hall for thirteen years, focusing on international and domestic programs. She is a mother of two, and loves watching her sons play soccer!